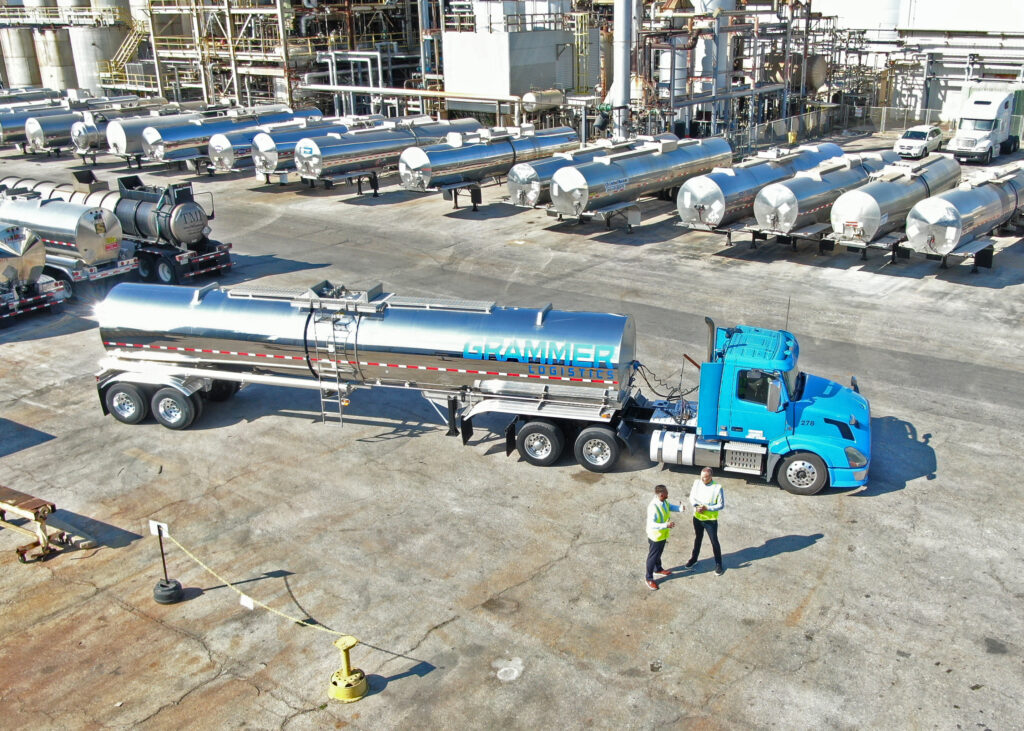 In less than five years, the tank truck carrier Charles "Shorty" Whittington founded 55 years ago has changed owners, overhauled its executive team—and name—doubled in size, and diversified into new commodities and services, including third-party bulk logistics with the acquisition of Logistics Management Resources (LMR) last year.
Swirling amid all these transformative conditions are several powerful, often competing forces. Grammer's family-owned past vs. its private-equity-backed present, historically seasonal cargoes vs. year-round work that ensures drivers stay productive and happy, and accelerated expansion vs. steadfast focus on safety and service. Any loss is a path to a darker fate. Each win lights the way to a brighter future.
Fortunately, three new leaders are bringing balance to Grammer's growing supply-chain ecosystem.
Private-equity partners Stellex Capital Management and Mill Rock Capital charged Scott Dobak, Grammer's new president and chief executive officer, with optimizing its network without losing sight of customers' needs; Patrick Maher, Grammer's first chief commercial officer, is aiming to solidify the company's position as the largest for-hire, pressurized gas hauler in North America and, at the same time, establish its presence in new markets, like general chemicals; and James Winton, the company's first chief operating officer, is overseeing the largest single-year capital investment in Grammer's history while keeping employees top of mind.
Their plan is to add a "significant number" of tank trailers, and a corresponding number of drivers, before 2024.
"An expansion of this magnitude is something the company has never been able to execute, either from a supply-chain standpoint, or a resources standpoint," Dobak said. "As a family-run business, they didn't have that kind of capital access. Our ability to source that much equipment through our private-equity backing is why I'm extremely bullish about the business right now. We're in a really great place to grow this year.
"Now we just need the economy to cooperate."
Unprecedented expansion
Shorty started Grammer, originally called Grammer Industries, in 1968 in Grammer, Indiana, as a transporter of grain and dry fertilizer serving the agricultural industry. The company added ammonia transport in 1977, then expanded into new ag and industrial ammonia markets via tuck-in acquisitions in the 1980s and 90s. Grammer also launched its Vickery Transportation waste-hauling subsidiary in 1999.
Shorty and his son, John Whittington, now the company's vice president of government affairs, first sought private-equity backing in 2012, when Linx Partners acquired a majority stake in Grammer. Stellex and Mill Rock purchased the business in October 2018, helping Shorty transition to a well-earned retirement, and kicking off a new era of unprecedented growth, starting with the acquisition of Sterling Transport in April 2019.
Adding Vass, North Carolina-based Sterling immediately doubled Grammer's fleet and geographic footprint, and strengthened its market position in the MC-331 space, combining Sterling's expertise in transporting natural gas liquids (NGLs) like propane and butane with Grammer's specialty in the ammonia segment. The acquisition of Texas-based LiMarCo Logistics in December 2019 further boosted Grammer's NGL services.
"It's been very exciting," Winton said. "We had recently purchased Sterling when I started with Grammer [in January 2020], and we had also just the month prior purchased LiMarCo. So, really, what we had was three totally different companies and cultures, and the major task initially was to pull them together for more consistency and efficiency, and make sure our driver pool was going in the same direction."
The bulk hauler changed its name to Grammer Logistics in 2020 to better reflect its broadening platform, a move that made more sense with the addition of LMR last October—exactly four years after Stellex and Mill Rock assumed ownership. Grammer also opened a commercial office in December 2021, in The Woodlands, Texas, just north of Houston; and a Houston-area terminal in January 2022, in La Porte, Texas. Maher joined the company in June 2021 and Dobak entered in August 2022.
Grammer also bolstered its safety, retention, and commercial teams to support expansion.
The company now boasts 19 locations (10 with maintenance facilities) spread across the Eastern U.S., 550 tractors—split between 350 owner-operators and 200 company drivers—more than 900 331 and DOT-407 tank trailers, and 700 employees who helped Grammer generate more than $100 million in top-line revenue in 2022.
"We've worked hard to find the right people who can take this team to the next level—and better serve our customers and drivers," Maher said.
Balanced interests
The quality of service already was there. The Whittingtons' dedication to delivering safe, customer-centric solutions is ingrained in Grammer's culture. Private-equity investment simply allowed Grammer to scale up operations in a strategic way. But when endeavoring to add corporate organization to a sole proprietorship, it's critically important to preserve the benefits of both ownership structures. "When you go from a family-run company to more of a private-equity backed business, there is definitely a transition that takes place," Dobak said.
Grammer turned to Dobak as its liaison between customers and ownership. His experience at Dicom Transportation prepared him to manage expectations of multiple stakeholders, including private-equity legacy owners and management. "While it's not traditional, Stellex and Mill Rock are aligned in terms of growth strategy, safety culture, adding employee talent, and the capital backing the business," Dobak said.
Maher says private-equity oversight is positive, bringing financial accountability, which is key to trucking profitability. "They truly are partners," he said. And Dobak sees their partnership as long-term. "I work for Grammer," he said. "Everybody understands we're building something real here. This isn't a short-term endeavor for Stellex. They've been in it since October 2018, and they're willing to stay in. As long as there's good value, they'll keep investing in the business."
The Whittingtons still are active and on the board, helping preserve a family atmosphere. Additionally, John Whittington chairs National Tank Truck Carriers' advocacy committee, and Grammer is involved with American Trucking Associations and several state organizations. "I'm proud to continue Grammer's involvement in many associations that make a difference to our industry," John Whittington said. "NTTC specifically gives tank truck carriers a way to come together as one unified voice and make sure we have a seat at the table in decisions that affect our segment of trucking."
Grammer fortifies its conscientious, "small-company" feel by cultivating local traditions where possible. "We largely have the same terminal network," Maher said. "That's key because we've worked hard to preserve a local feel at individual locations, with drivers and customers, while bringing in the advantages of a larger company."
Grammer also has a CEO running the business as if its private-equity partners will "be in it for 100 years"—advice he received from a board chairman at a previous stop. That, he says, is the only way to ensure everyone wins. "I have seen private-equity businesses where people are very internally focused, and very P&L-oriented—which you have to be—but if you do that at the customer's expense, it's a losing proposition," Dobak said. "So, we're trying to balance our customers' needs while we build out this business from a quality and service standpoint, a network standpoint, and from a capacity standpoint."
Balanced services
Propane deliveries heat up in the winter, and ammonia usage in fertilizer spikes during the summer growing season. Combining the two pressurized services improved Grammer's seasonal balance—ensuring trucks are moving year-round. "We're working to make sure, from a commercial standpoint, that we understand the ebbs and flows, so we keep drivers working," Dobak said. "If they're making money, they don't leave."
Now the carrier is growing in the chemical space in a "natural progression," Maher said. Grammer already worked with many major chemical shippers, and its existing network is well-situated to deliver cost-effective services. Additionally, Winton's previous stints with Trimac Transportation and Dupré Logistics helped Grammer rapidly increase its share of a hot market; and general chemical is a "12-month-a-year opportunity," Winton added, making it an ideal "fill-in" business for Grammer's ammonia and NGL segments.
"We don't limit ourselves to handling only certain products, like latex, petrochemicals, or oils," Winton said. "We'll handle all general commodities approved for 407s; we have specialized trailers, like acid and lime units; and if a customer needs a certain type of specialized lining, we have the ability install those as well." Flexibility and familiarity allowed Grammer to grow its chemical operation into a $20 million business in 18 months, Dobak said. "It's based on customer demand," Maher said. "As we've gotten our name out in the marketplace, customers have been very receptive based on our record of safety and service, as well as our scale."
Grammer also offers truck-to-rail transload services at five locations—and, for the first time, comprehensive bulk transportation services via the transformational addition of Baton Rouge, Louisiana-based LMR. "As initial conversations started between the companies, we were not actively looking for a partner," recalled Heston Hodges, LMR president. "But it quickly became evident there was a natural strategic and cultural fit between the organizations. Grammer's record of service and safety had allowed them to successfully scale into the bulk chemical market, and this partnership would provide LMR clients with instant access to new chemical capacity in several major markets. Six months later, LMR has found the fit to be better than expected. The wide range of chemical expertise and relationships in both liquids and gases is unparalleled. I cannot wait to see what the future holds for us in coming years."
Mutual benefits include access to Grammer's assets for LMR's customers, and Grammer's newfound ability to cover more of its customers' loads by leveraging LMR's established carrier network. With LMR serving as the "control tower," Grammer also can better coordinate shifting lanes, and consult with shippers on ways to optimize operations. "We match up well now, and we're looking to enhance each other's businesses," Maher said. "Both companies already have nice platforms, but as we grow, we're going to be able to create some very unique, blended solutions that leverage our combined capabilities."
Balanced growth
The integration of Grammer and LMR is helping Dobak achieve his primary objective—"cracking the code" on capacity constraints. "This is the first business I've been with where, in some cases, we've had more demand than supply," Dobak said. "Our big challenges are finding enough qualified drivers, because all our drivers must be hazmat certified and meet certain internal standards; and then sourcing enough equipment to meet customers' demands—because if you don't have equipment, there's no reason to hire drivers."
Stellex and Mill Rock unlocked the new equipment, including 100 Wabash and Polar 407s for the chemical business, 20 331s from Mississippi Tank Company, and 37 Peterbilt replacement tractors. But to meet the ambitious goal of adding 100 drivers, Grammer must harmonize accelerated expansion with augmented retention and safety performance, Winton asserted. "It's not easy to hire and retain people, and grow at the pace we're growing, while preserving the things near and dear to everyone, including the Whittingtons' focus on strong relationships with customers and longtime vendor partners like Cummins—and our employees' safety," he said.
To enhance vital relationships, Dobak first needed to understand the bulk industry's emphasis on quality, and his company's value proposition with all parties. He did so by going terminal to terminal with Winton—who jokes he's spent more time with Dobak than his wife in recent months—visiting with newly created lead driver groups and owner-operator councils (Grammer now has more contractors than company drivers in a strategic transition sparked by pandemic-induced driver and equipment shortages) consisting of carefully selected individuals who each represent eight to 10 drivers in the market. "People want to be heard, they want to have the ability to influence what's going on in the business," Dobak said. "And quite honestly, a lot of the ideas for what we're doing now, as far as changes, are driven by our employees."
Two-way communication, and greater visibility into corporate motivations, further strengthens relationships—and builds all-important trust. "People just want to see an increase in communication, and not generic communication, but how is the company doing, are we profitable, what does the future hold, where are we going from commodity and services standpoints, and are we expanding into new areas?" Dobak said.
"They just want to know more."
Drivers want to work more, too. To put them behind the wheel faster, while keeping safety at the forefront of operations, Grammer now has three driver orientation locations, including the Houston office, so Gulf Coast drivers don't have to travel to Columbus, Indiana, or Augusta, Georgia, for onboarding education. "We're able to complete orientation locally, and they can start training faster, and complete it more efficiently," Winton said. Training includes in-class and field time, and is supported by regular safety meetings, Infinit-I's learning management system, SmartDrive and Lytx camera systems, and Samsara electronic logging devices. "We invest a lot in technology—but technology alone isn't enough," Winton said. "We're one of the few carriers that offers a big incentive for clean DVIRs [driver vehicle inspection reports]."
Grammer currently is rolling out new customer service training for dispatchers and managers, key members of the company's "non-revenue-producing" staff—a group Winton maintains includes Dobak, Maher, and himself—who are the support mechanism for the "revenue-producing staff," Grammer's professional drivers. "Our secret sauce is our people, and their experience," Winton said. "Anybody can create a policy or process for moving a hazardous product, but it takes skilled individuals to run an organization.
"So, putting the right people in the right spots has been a big focus—and the results speak for themselves."
Equalized for excellence
New training isn't the only force positively influencing the growing group.
Grammer also is bolstering its safety culture with a new emphasis on stop-work authority and integrating its McLeod enterprise resource planning and transportation management software across all its companies, while strengthening ties with LMR and pursuing organic growth, particularly within its transload and chemical divisions. Dobak says the chemical sector presents the "greatest growth opportunity" for Grammer. "Specialty chemical is going to become more of a focus for this business going forward," he predicted.
The carrier believes it also is well-positioned to capitalize on a strong natural gas market in the U.S., and sustainability trends buoying alternative fuels. Dobak said they've already been approached about supporting hydrogen investments over the next several years—when the equipment they're adding now is ready to pay off. "Stellex believes in the management team, and they believe in the business, so they're doing everything they can to make it work."
Ultimately, Grammer's long-term success depends on finding equilibrium in owner, employee, and customer interests. But, with three level-headed leaders lighting the way, this legacy tank truck business is in capable hands.
"The Grammer team has continued to expand its logistics platform through a strong culture and reputation of safety, customer service, and increased scope of services through the 2022 acquisition of LMR," said Michael Stewart, managing partner at Stellex Capital. "We look forward to continuing our support of Grammer via prospective M&A and furthering organic growth through significant investments in talent and equipment.
"We believe Grammer is strongly positioned as the industry continues trending toward increased logistics outsourcing and market consolidation." BT
Source URL: https://www.bulktransporter.com/fleet-management/media-gallery/21262988/business-in-balance-grammer-accelerates-growth-while-guarding-sacred-ideals