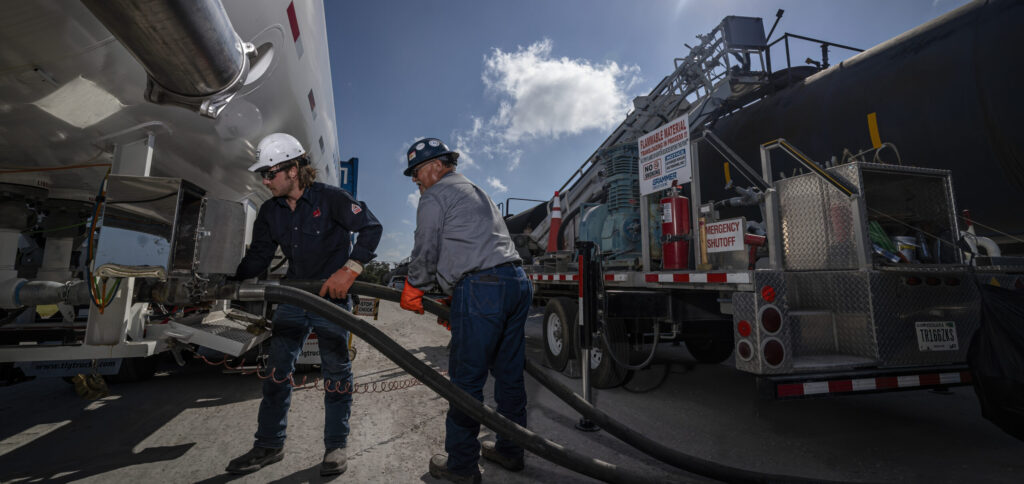 A Conversation with Grammer Logistics' Tabor Barbee
Streamlining your transportation of hazardous materials not only allows for a more consistent and dependable strategy for your team, but it can also positively impact your financial performance and improve your bottom line. By consolidating shipments and optimizing our resources our team is able to ensure that our clients receive the most cost-effective solution for their transportation needs. And when there is the option of seamless integration from rail to truck to your front door, that's less time your materials are on the road – and less time that your materials need to transfer between multiple transportation providers.  
Although cost and time savings are major benefits to transload services, there is more to consider. If you haven't worked with a transload solutions partner before, there are a few things to think about. We sat down with Grammer Logistics' Business Development Manager for Transloading, Tabor Barbee, to learn more about transload services and which customers should consider this for transporting their hazardous materials.  
Question: Tabor, thank you for chatting with us. When it comes to transloading, or moving bulk materials from one form of transportation to another, this service makes sense for international shipping since you are often moving materials from sea to land. But why is transloading an important option for domestic shipping?  
Answer: Well, first, our team is not just rail to truck centric. We can transload barges or vessels anywhere in North America!  
Question: Good to know! So why do clients reach out for this service?  
Answer: Companies look at this from two different perspectives. One company may see transloading services as a way to reduce safety risk and reduce their carbon footprint. Using a transload service reduces carbon emission from four truckloads down to one rail car. Another perspective is a company who is usually new to the transloading market or introducing a high-volume truckload lane into the transloading market. By choosing a transload service, it keeps them competitive in winning or keeping their business from a cost perspective.  
Question: It sounds like cost-savings and time-savings are big motivators for customers to consider transloading. What are some other benefits to this service?  
Answer: Transloading is a great way to enter a new market for business while being able to have steady and sustainable growth. You don't necessarily always need to buy more rail cars while growing your business. Instead, being able to properly manage your railcar fleet can help grow business without adding an additional fixed cost.  
Question: It sounds like strategy is a big part of this. Makes sense. So is transloading a new idea in transportation? If not, why doesn't every logistics provider, or bulk tank trucking company, offer this?  
Answer: It's not new. Class 1 railroads have been utilizing transloading services for years, some managing their own service and some contracting out services. The benefits of a logistics company managing it, like Grammer Logistics, is being able to help customers cut down on last mile bulk truckload costs and bundle our bulk trucking services with it. Grammer Logistics is in a very niche space regarding hazardous materials so we are able to offer a full supply chain solution for bulk liquid customers that many logistics providers can't.  
Question: It definitely is a niche space! For our last question, as with all areas of transportation, technology can play a major factor in the future of the service. What do you see in the coming years with transloading? 
Answer: A lot of technology is being developed in the inventory management space. Over the years, transloading services have struggled to communicate when rail cars are being offloaded into specific trucks. Bottom line: the future is looking bright on technology that scales both railcars and trucks in and out and communicates that in real time to customers.  
As Tabor mentioned, Grammer Logistics services a large footprint in supporting customers by road, rail or sea. We have locations in Nashville, Tennessee, Atlanta, Georgia, Tampa, Florida, Corpus Christi, Texas and New York Harbor, New York, to support many customers in the North American market. To learn more about Grammer Logistics' commitment to strategic transloading solutions, and to talk with Tabor and our team to see if this is the right solution for your hazardous bulk transportation needs, contact us today!